Sharing some of my favorite fashion finds for fall + some new wardrobe essentials.
Helloooooo! How's the week going? I hope you're having a great morning so far! I'm subbing a class at the gym and meeting with a friend for coffee afterward. It's been raining a ton here in Tucson lately (late monsoons are the best) and it's cooled down a bit. While we're definitely not ready for boots and sweaters here, it's making me very excited for fall.
For today's post, I thought I'd share some more fall fashion picks + wardrobe-essentials.  (What can I say, I've been in a shopping mood lately.) I'd love to hear what you're scoping out for fall and if there are any trends this season that you actually like. Fashion has been a bit weird the past couple of years, but I tend to stick to the classics, like blazers, sweater dresses, cute headbands, and cozy sweaters over the fall and winter seasons.
Here are some of my top picks!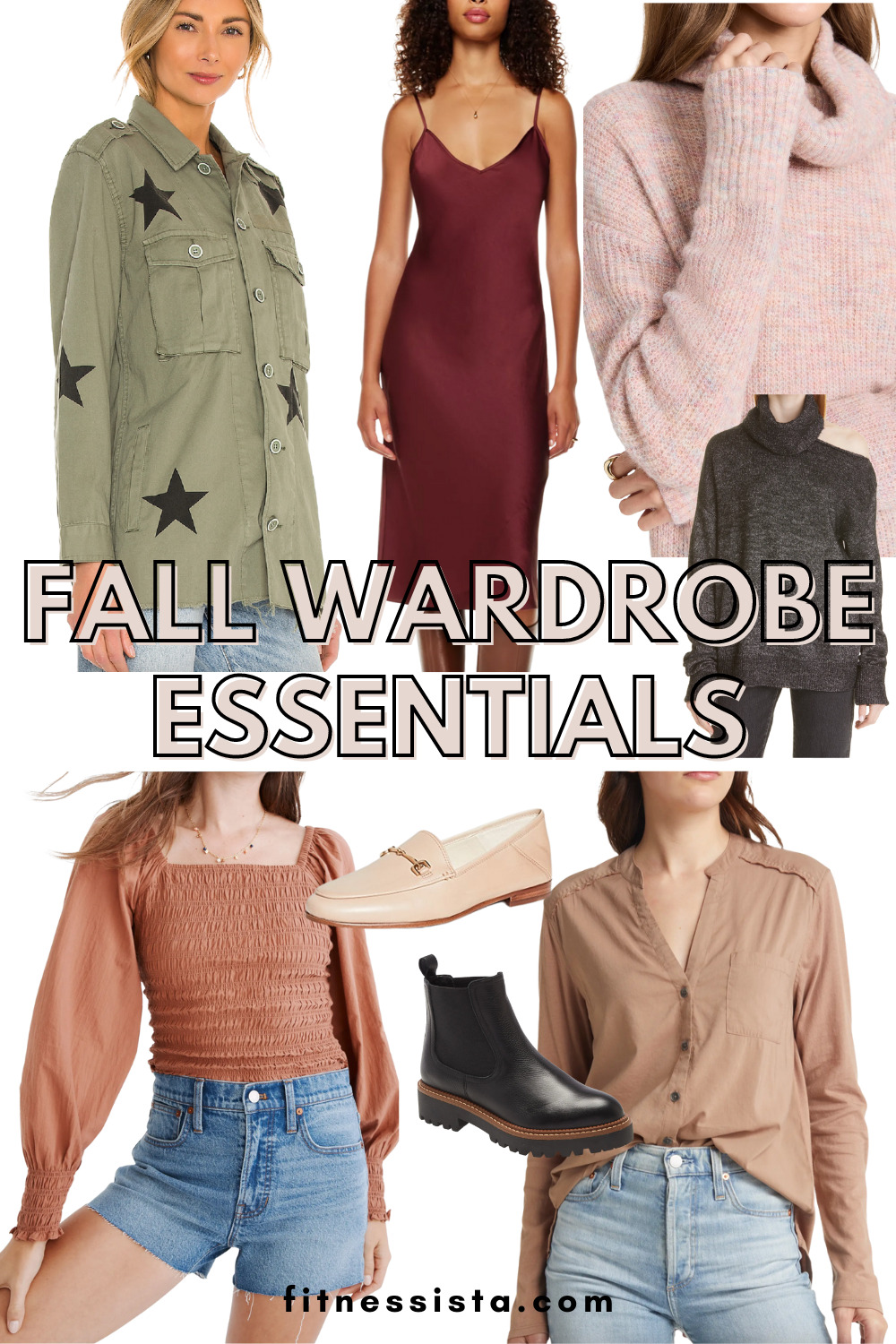 Fall Wardrobe Essentials
Tops and sweaters
When it comes to building the perfect fall capsule wardrobe, tops and sweaters are the real MVPs. These versatile pieces can be dressed up or down, mixing and matching effortlessly with other items in your closet.
Whether you're sipping on a pumpkin spice latte or strolling through the crisp autumn air, tops and sweaters are a must-have. You can't forget about layering! A classic trench coat or a trendy leather jacket can take your look to the next level. Personally, I love pairing my tops and sweaters with jeans for a casual, yet stylish ensemble. For a touch of elegance, throw on some ballet flats or rock a pair of boots for a full-length fashion moment.
This gorgeous cut-out sweater. (I have one from last year and wore it all the time.)
Classic v-neck button-up.
This recycled cashmere wrap sweater.
This off-shoulder pullover.
Outerwear and blazers
When the temperature starts to drop, it's time to bring out the big guns – outerwear and blazers! These fall staples are not only practical but also make a fashion statement. Picture yourself strutting down the street in a stylish trench coat, feeling like the protagonist of your own fall fashion movie. What I love most about outerwear and blazers is their ability to transform any outfit. Just throw on a tailored blazer or a trendy leather jacket, and suddenly you've taken your look from simple to sophisticated. And let's not forget about trench coats – they're a timeless piece that never goes out of style.
The key to creating a fall capsule wardrobe is picking versatile pieces that can be mixed and matched effortlessly. Neutral colors, like camel or black, are always safe choices. This season, consider embracing your personal style by adding a pop of color or opting for unique patterns.
Classic black blazer.
LOVE this plaid blazer.
Another cute plaid blazer.
This Varley zip-up.
Dresses and skirts
These feminine and versatile pieces are perfect for creating a chic and stylish fall capsule wardrobe. They effortlessly transition from day to night, allowing you to express your personal style while staying cozy and comfortable. Mix and match your dresses and skirts with different tops and sweaters for endless outfit options. Go for full-length maxi dresses or midi skirts for an elegant and sophisticated look. And let's not forget about the power of layering – throw on a trendy leather jacket or a classic trench coat to add an extra layer of warmth and style.
Neutral colors are always a safe bet, but don't be afraid to embrace the fall spirit with rich earth tones or vibrant patterns. After all, fall is the time of pumpkin spice and bold fashion choices!
I want this sweater dress in every color.
This printed dress would be so cute with booties or heeled sandals.
These sleeves are everything.
The perfect date night dress.
Jewelry and accessories
What's a fall outfit without the perfect finishing touches? That's right, it's time to talk about jewelry and accessories, the cherry on top of your fall capsule wardrobe. These little gems can take your look from ordinary to extraordinary, adding that extra sparkle and personal flair. When it comes to fall, think warm tones and earthy hues. Mix and match gold and bronze accessories to complement the rich colors of the season. Layer delicate necklaces with chunky bracelets for that effortlessly cool vibe.
Scarves are also a must-have accessory for fall. Not only do they keep you warm, but they also add a pop of color and style to any outfit. Wrap yourself up in a cozy scarf, and you'll feel like a fashion-forward pumpkin spice latte. And let's not forget about the shoes! Boots are a fall essential and come in a variety of styles, from ankle boots to knee-high beauties. They not only keep your toes warm, but they also elevate your style game.
These earrings look expensive but are $30.
This leopard hair clip.
This versatile crossbody.
A hot pink pop of color.
This gold link bracelet.
Loooove this logo hinge bracelet.
Boots and shoes
Boots, glorious boots! When it comes to fall fashion, boots and shoes are the unsung heroes of your wardrobe. These trusty companions not only keep your feet warm but also add that extra oomph to your fall outfits. From ankle boots to knee-high stunners, there's a style for every occasion and personal style. Pair them with dresses, skirts, or jeans for a versatile and fashionable look. Oh, and let's not forget about ballet flats! These elegant and comfy shoes are perfect for those days when you want to take a break from heels but still look chic.
Fall 2023 is all about embracing neutral colors and experimenting with different textures and patterns. Opt for suede or leather boots in warm browns and rich burgundies to add a touch of fall flair to your outfits. Look for styles with comfortable soles and good arch support, so you can rock your fall adventures without sacrificing comfort.
Classic brown loafers.
This ankle strap sandal.
Water-resistant Chelsea boots.
Jeans
Let's talk about everyone's favorite wardrobe staple – jeans! Versatile, comfortable, and effortlessly cool, jeans are a must-have for your fall capsule wardrobe. Whether you prefer skinny jeans, boyfriend jeans, or mom jeans, there's a style for every body type and personal preference. Pair them with tops, sweaters, or blazers for casual or dressed-up looks. Opt for full-length jeans or cropped styles depending on your personal style and the occasion. And, of course, don't be afraid to embrace the power of denim-on-denim for that trendy and effortless cool factor.
When building your fall wardrobe, consider adding different washes and colors of jeans. Classic blue, black, or even gray jeans are all great options that can easily be dressed up or down. And if you really want to get into the fall spirit, why not try a pair of pumpkin spice-colored jeans?
High-waist straight-leg jeans.
These jeans.
I think this jean wash is perfection.
Get ready to fall in love with your fall wardrobe!
As the crisp autumn air settles in and the leaves turn beautiful shades of red and gold, it's clear that it's that time of year again. And no, I'm not just talking about pumpkin spice lattes and cozy nights by the fire (although those are pretty fantastic too). I'm talking about our fall wardrobe essentials! From cozy sweaters to stylish boots, it's time to embrace the season in style. So, as you pack away your summer clothes and pull out your fall favorites, remember to stock up on those key pieces that will keep you fashionable and warm throughout this marvelous season.
Happy fall, my fashionably fabulous friend and I'll see ya soon!!
xoxo
Gina